| | |
| --- | --- |
| | "The European Multidisciplinary Society for Modelling and Simulation Technology" |

Dear Colleague,
Well here it is again, our Newsletter updating the EUROSIS activities of
the past months and the coming months. As usual its already far past
my envisaged publication deadline, but still am glad I made it before the
summer.
Enjoy the issue.


This issue has the following topics:
1) EUROSIS Members Update
2) Call for IPC Members
3) EUROSIS Conferences Update
4) Online Pictures Update
5) New EUROSIS Publications
6) Journals and Books update
7) Project Proposal
1) EUROSIS Memberships
We have the pleasure to announce that EUROSIS now has its third full Academic Member, namely the British Institute of Technology and E-Commerce

And two new full time members:
1) Barbaros Bostan, Yeditepe University, Istanbul, Turkey
2) Helena Barbas, CENTRA-Universidade Nova de Lisboa, Caparica, Portugal
Over the last couple of years we have attained a median number of 3-5 reviews per submission for our conferences. In order to increase the quality of feedback and of the papers submitted for EUROSIS events, we are aiming to bring the number of reviews to 4-6. What we have accomplished so far has translated itself into attracting new journals
and books linked to our activities, as you can see under heading 6. So if you are interested in taking up an ipc position, send an email to philippe.geril@eurosis.org

[] For ECEC'2011-FUBUTEC'2011 and EUROMEDIA'2011, all keynote presentations slides
are now online on the following pages:
http://www.eurosis.org/cms/index.php?q=node/1641
http://www.eurosis.org/cms/index.php?q=node/1587
http://www.eurosis.org/cms/index.php?q=node/1606

For your diary these are the EUROSIS conferences from August 2011 and beyond.


Paper submission period for GAMEON'2011 starts from June 1st and ends June 20th.
GAMEON'2011, August 22-24, 2011, National University of Ireland, Galway, Ireland.


GAMEON-NA'2011-NASTEC'2011, September 28-30 2011, Rensselaer Polytechnic Institute, Troy, NY, USA.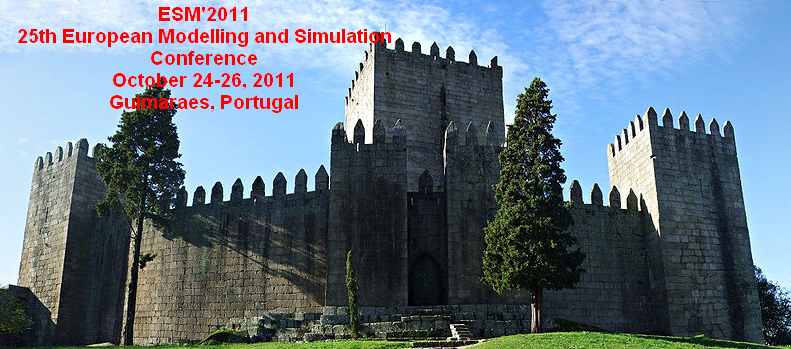 ESM'2011, October 24-26, 2011, Hotel de Guimaraes, Guimaraes, Portugal (organized by University of Minho).
Confirmed sites for 2011-2014 so far:
[] MESM'2011, November-December 2011, Amman, Jordan (website coming online this June, as we are in the final preparation stages)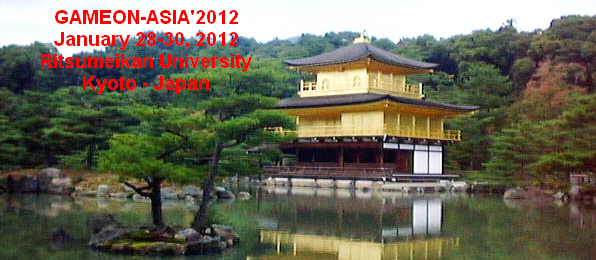 [] ASTEC'2012-GAMEON-ASIA'2012, January 28-30, 2012, Ritsumeikan University, Kyoto, Japan in conjunction with the annual Japanese DIGRA convention.

[] EUROMEDIA'2012-ECEC'2012-FUBUTEC'2012, April 18-20, 2012, University POLITEHNICA of Bucharest, Bucharest, Romania (confirmed)
[] FOODSIM'2012, May-June 2012, to be announced soon
[] ISC'2012, June 4-6, 2012, University of Brno, Brno, Czech Republic
[] GAMEON-NA'2012-NASTEC'2012, 2012, Digipen Institute of Technology, Redmond WA, USA
[] ESM'2012, FOM University of Applied Sciences, October 2012, Essen, Germany
[] GAMEON'2012, November 12-16, 2012, University of Malaga, Malaga, Spain
[] ASTEC'2013-GAMEON-ASIA'2013, March 2013, Beijing, China
[] EUROMEDIA'2013-ECEC'2013-FUBUTEC'2013, University of Greenwich, London, United Kingdom
[] ISC'2013, June 2013, Ghent University, Ghent, Belgium
[] GAMEON-NA'2013-NASTEC'2013, Georgia Institute of Technology, Atlanta, USA (TBC)
[] GAMEON'2013, Aalborg University, Esbjerg, Denmark. (TBC)
[] ESM'2013 TBS
[] ISC'2014, June 2014, Högskolan Skövde, Skövde, Sweden (CONFIRMED)
[] ESM'2014 TBS
[] GAMEON'2014, August/November 2014, Lincoln University, Lincoln, United Kingdom (TBC)

Well continuing upon the aim to link pictures of the events just before each newsletter I have received from the participants of the last two conferences a number of conference pictures. Again if any of you have pictures you wish to share do not hesitate to send them to me.
Here is the list of picture updates
[] GAMEON-ASIA'2011 (thanks Pia Benosa )
[] FUBUTEC-ECEC-EUROMEDIA'2011 (thanks Hasan Al-Saedy for the 290 pictures) and Ciprian Dobre.


The major update where the EUROSIS Proceedings are concerned is that from now on all EUROSIS Proceedings have as their legal repository the the Royal Library of Belgium, where they are registered under CIP number 12.620.

The following publications have been added to our publications list
Proceedings

EUROSIS Member Prices

Non-Member Prices


GAMEON-ASIA'2011 - ASTEC'2011
(Covers Game Methodology and Design, Game AI, Strategy Gaming and Graphics)
March 1-3, 2011, Digipen Institute of Technology, Singapore
Edited by Tan Chek Tien
Blue cover
Softbound, 77 pages, Contents
ISBN 978-90-77381-60-1

not yet in the catalogue

P.V.: € 40
E.V.: € 10
P.O.D.: € 50
P.V.: € 45
E.V.: € 20
P.O.D.: € 60

FUBUTEC'2011 - ECEC'2011
(Covers Business Intelligence, Information Management and Security, Decision Support Tools, AI Applied to Concurrent Engineering, Factory Planning and Control for Small and Medium Sized Enterprises)
April 18-20, 2011, British Institute of Technology & E-Commerce, London, United Kingdom
Edited by Ciprian Dobre
Blue and White cover
Softbound, 137 pages, Contents
ISBN 978-90-77381-61-8

not yet in the catalogue

P.V.: € 45
E.V.: € 10
P.O.D.: € 50
P.V.: € 55
E.V.: € 20
P.O.D.: € 60

EUROMEDIA'2011
(Covers Media Content Management, Data transfer Architectures, Media on the Go and Media Interpretation Systems)
April 18-20, 2011, British Institute of Technology & Commerce, London, United Kingdom
Edited by Hasan Al-Saedy
Blue and White cover
Softbound, 79 pages, Contents
ISBN 978-90-77381-62-5

not yet in the catalogue

P.V.: € 40
E.V.: € 10
P.O.D.: € 50
P.V.: € 55
E.V.: € 20
P.O.D.: € 65

P.V.: Printed Version
E.V.: Electronic Version for download (consists of coverfile, first pages file, contents file and all scientific contents, all files are in pdf format)
P.O.D.: Printed on Demand (when the book is SOLD OUT*, we can still produce a printed copy on request).
EUROSIS International Journal of Soft Computing Simulation and Software Engineering (IJSCSSE)
We have received some 250 proposals for the editorial board of 60 vacant places. We will go through all proposals and will get back to everyone in July.
A call for editors for the Elsevier Journal of Computational Science will be sent out after the summer.
Professor Gerrit Janssens is now working on a book for Cambridge Scholars Publishing. Some 38 EUROSIS conference papers were proposed of which 21 were selected for publication. More info to follow.
A Belgian clothing company we are working with is looking for industrial
proposals in the field of facial recognition to add to their virtual clothing
wall and booth software to market either as an integrated product later this
year or as an add-on for the future. If interested drop me a line and I will
forward your info to them.

See you for the next issue
Philippe
-
Philippe Geril Tel: +32.59.255.330
EUROSIS -ETI Fax: +32.59.255339
Greenbridge NV E-mail: philippe.geril@eurosis.org
Wetenschapspark 1 E-mail: pgeril@yahoo.co.uk
Plassendale 1 URL: http://www.eurosis.org
B-8400 Ostend
Belgium
*********************************************************************
* Your Scientific information site on *
* Computer Simulation - Concurrent Engineering - Multimedia- Games *
* WWW.EUROSIS.ORG *
*********************************************************************
THINK BEFORE PRINTING
**** DISCLAIMER ****
"This e-mail and any attachments thereto may contain information
which is confidential and/or protected by intellectual property
rights and are intended for the sole use of the recipient(s) named
above.
Any use of the information contained herein (including, but not
limited to, total or partial reproduction, communication or
distribution in any form) by persons other than the designated
recipient(s) is prohibited.
If you have received this e-mail in error, please notify the sender
either by telephone or by e-mail and delete the material from any
computer.
Thank you for your cooperation."
===============================================================
This email is sent out to all those on the EUROSIS-ETI database.If
you want to be removed from this database or want to update your
address details, please send an email to Philippe.Geril@eurosis.org
===============================================================