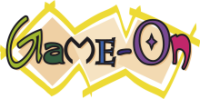 Conference Location

Duesseldorf is the capital city of the German state of North Rhine-Westphalia. It is an economic centre of Germany situated on the River Rhine, and is renowned for its many events and also for its fashion and trade fairs. Every July more than 4.5 million people visit the Größte Kirmes am Rhein funfair in Duesseldorf.
History
| | |
| --- | --- |
| When the Roman Empire was strengthening its position throughout Europe, a few Germanic tribes clung in marshy territory off the eastern banks of the Rhine River.In the 7th and 8th centuries, the odd farming or fishing settlement could be found at the point where the small river Duessel flows into the Rhine. It was from such settlements that the city of Duesseldorf grew. | |
The first written mention of the town of Duesseldorf dates back to 1135 (then called Duesseldorp). It was told that under Emperor Friedrich Barbarossa the small town of Kaiserswerth, lying to the North of Duesseldorf, became a well fortified outpost, where soldiers kept their watchful eyes over every movement on the Rhine. Kaiserswerth eventually became a suburb of Duesseldorf in 1929.
| | |
| --- | --- |
| | In 1186 Duesseldorf came under the rule of Berg. The counts of Berg moved their seat to the town in 1280. 14 August 1288 is one of the most important dates in the history of Duesseldorf as it was on this day that the sovereign Count Adolf V of Berg granted the village on the banks of the Duessel the Town privileges. |
Prior to that announcement, a bloody struggle for power had taken place between the Archbishop of Cologne and the count of Berg, culminating in the Battle of Worringen. The Archbishop of Cologne's forces were wiped out by the forces of the count of Berg who were supported by citizens and farmers of Cologne and Duesseldorf, paving the way for Duesseldorf's elevation to city status, which is remembered today with a monument on the Burgplatz.
| | |
| --- | --- |
| A market square sprang up on the banks of the Rhine and the square was protected by city walls in all four directions. In 1380, Duesseldorf was made regional capital of the Duchy of Berg. During the following centuries several famous landmarks were built, including the Collegiate Church of St. Lambertus. In 1609, the ducal line of Julich-Berg-Cleves died out, and after a virulent struggle over succession, Julich and Berg fell to the Wittelsbach Counts of Palatinate-Neuburg, who made Duesseldorf their main domicile, even after they inherited the Palatinate, in 1685, becoming now Prince-electors as Electors Palatine. | |
Dusseldorf's growth was even more impressive under the leadership of Johann Wilhelm II (r. 1690-1716) in the 18th century, also known to his people as Jan Wellem. Greatly influenced by his wife Anna Maria Luisa de Medici, the art lover designed a vast art gallery with a huge selection of paintings and sculptures that were housed in the Stadtschloss (city castle).
| | |
| --- | --- |
| | After the death of childless Jan Wellem, the flourishing royal capital fell back to hard times, especially after Elector Karl Theodor inherited Bavaria and moved the electoral court to Munich. With him he took the art collection, which became part of what is now the Alte Pinakothek in Munich. Destruction and poverty struck Duesseldorf after the Napoleonic Wars. Napoleon made Berg a Grand Duchy and Dusseldorf its capital. J. C. C. Devaranne, a leader of Solingen's resistance to Napoleon's conscription decrees, was executed here in 1813. After the defeat of Napoleon, the whole Rhineland including Berg was given to the Kingdom of Prussia in 1815. The parliament of the Rhine Province was established in Duesseldorf later. |
| By the mid-19th century, Duesseldorf enjoyed a revival thanks to the Industrial Revolution as the city boasted 100,000 inhabitants by 1882; the figure doubled in 1892. It was a target of strategic bombing during World War II, particularly during the RAF bombing campaign against the Ruhr industry in 1943 when over 700 bombers would be used in a single night. Raids continued late into the war. As part of the campaign against German oil facilities, the RAF raid of February 20/21 1945 on the Rhenania Ossag refinery in the Reisholz district of Duesseldorf halted oil production there. The bombings virtually reduced the city to a pile of rubble. | |
| | In 1946 Duesseldorf was made capital of the new federal state of North Rhine-Westphalia. The city's reconstruction proceeded at a frantic pace and the economic transformation saw Duesseldorf growing into the wealthy city of trade, administration and service industries as it is known today. |
Parts of this text were copied from

Conference Venue
The actual conference building
Game-On'2009 will be held at the
Mediadesign Hochschule
University of Applied Sciences
Werdener Str 4
40227 Duesseldorf
TEL + 49 (0211) 17 9393 24
FAX + 49 (0211) 17 9393 17
l.breitlauch@mediadesign-fh.de

You can download a location map here.(425k)
By Plane






Duesseldorf has its own International Airport serving airports from all over the world and is located about 9 km from the centre of Duesseldorf. The airport is connected to the Autobahn via the A44. Two railway stations serve the airport. The Long distance station is located 2.5 km from the terminal and is serviced by all categories of German rail types, including ICE trains. The long distance station is connected to the terminal via a suspended monorail called SkyTrain. this service also connects the terminal to the outerlieing parking garages. as can be seen in this picture.

The airport also has its own S-Bahn station located below the terminal. It is serviced by the S7, which has its northern terminus there.

By Train




As Duesseldorf is located in the very heart of the Ruhr industrial area of Germany it has good rail connections with the rest of Germany and abroad as shown by these two websites of the German main station.(weblink 1- weblink 2)

By Tram




You can get about in Duesseldorf using the tram or S-Bahn. The enclosed map gives you an idea of the lines in Duesseldorf.

By Bus

You can also take the bus as you can see here.

By Taxi

More information to follow

By Car

In case you come by car, then the following links might be useful. (web link 1- web link 2)

On Foot

More info to follow
Detailed Map of Duesseldorf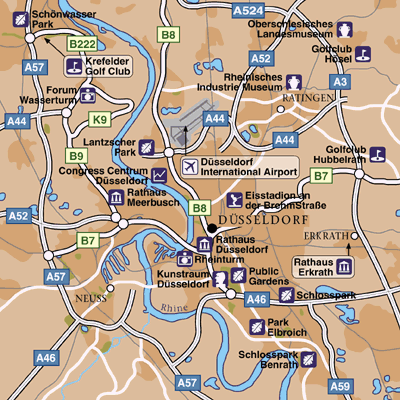 Useful Links - More to follow