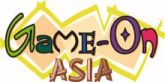 Conference Location
Shiga is situated at the center of Japan and has the Lake Biwa-ko, the largest lake in Japan at its center. It is an inland prefecture surrounded by Mt. Ibuki-san in the northeast, the Suzuka Mountain Range in the east, Mt. Hira-san and Mt. Hiei-zan in the west, and the Shigaraki Mountains in the south.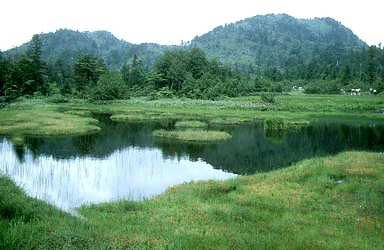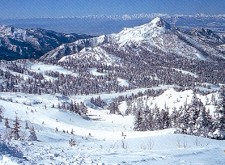 The Shiga Kogen Highlands, located in Joshin'etsu Kogen National Park, are surrounded by 2,000-meter mountains that include Mt. Shiga. More than 70 lakes and marshes of varying sizes dot the highlands, which are the home to many alpine plants, wild birds and animals. This area is one of Japan's largest ski resorts, with 21 ski slopes, and is always alive with skiers in winter and early spring. The Shiga Heights staged the giant slalom, slalom, combined slalom and snowboard giant slalom events during the 1998 Winter Olympics.(40 minutes by train (Nagano Dentetsu Line Express) from Nagano Station to Yudanaka Station, from there about 30 to 40 minutes by bus to Shiga Kogen)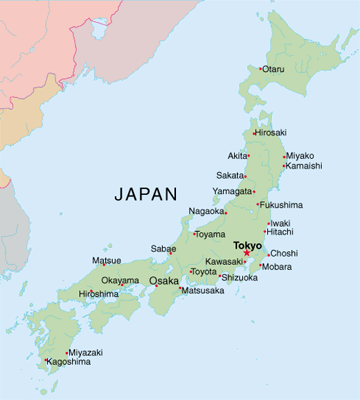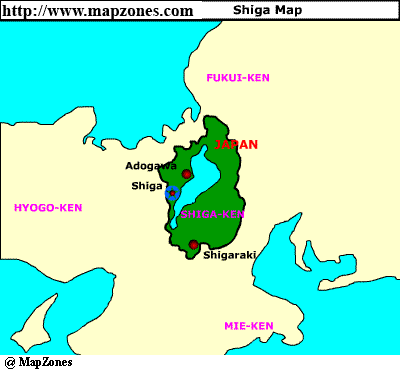 Shiga shares a border with Fukui Prefecture in the north, Gifu Prefecture in the east, Mie Prefecture in the southwest, and Kyoto Prefecture in the west.
Nicknames for different areas of the prefecture include Kohoku (north of lake), Kosei (west of lake), Koto (east of lake), and Konan (south of lake).
Lake Biwa, Japan's largest lake, is located at the center of this prefecture. It occupies one-sixth the total area of Shiga. The prefecture is enclosed by mountain ranges with the Hira mountains in the east and the Ibuki and Suzuka mountain ranges in the west. Northern Shiga is substantially colder with higher snowfall than in southern Shiga which is usually warmer.
Seta River flows out from Lake Biwa to the Osaka Bay through Kyoto. This is the only natural river which flows out from the lake. All of the other natural rivers flow into the lake
The main gateways to Shiga are Maibara Station (bullet train station) in northern Shiga and Otsu, adjacent to Kyoto, down south. Before being incorporated as a prefecture in the modern era, Shiga's old fief name was Omi.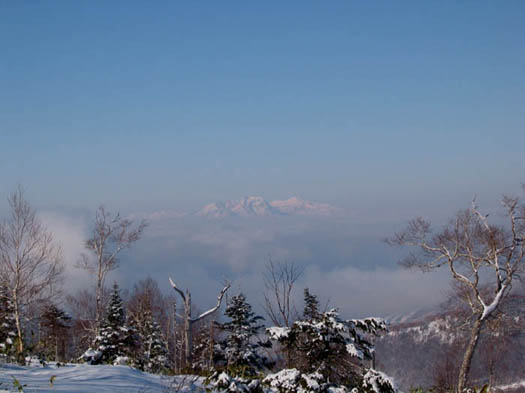 There are temples, castles, festivals, historical persons, and natural beauty that rank among those of national importance. Shiga's most prominent feature is Lake Biwa, Japan's largest lake. It looks like Japan's belly button on a map of Japan. The lake can be visited either by car (you can drive completely around it in one day) or by boat. The northern part of the lake is especially scenic. The western shore has white-sand swimming beaches, popular among Kyotoites during the summer. It is less developed than the eastern shore where there are cities such as Nagahama, Hikone, and Omi-Hachiman.
As it is located at a pivotal point of the traffic between the western and eastern Japan, civilization flourished in this area since the earliest times. There are a number of precious historic heritages including Hiei-zan Enryaku-ji Temple designated as the World Cultural Heritage, Hikone Castle designated as the national treasure, and many famous Buddhist images. Shiga has the third largest number of national treasures and important cultural properties, after Nara and Kyoto.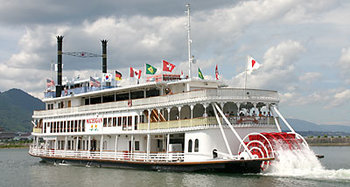 Boat cruises such as the well-known Michigan paddlewheeler and cruises to scenic Chikubushima island are worthy excursions. Many lakeside towns in Shiga also offer rental bicycles where you can hop on the bicycle at one train station and ride to another train station to return it. Cycling is a great way to see Shiga and the lake shore roads are very scenic. In spring, don't miss riding (or driving) through a stretch of road in Kaizu Osaki on the northern shore lined with cherry trees. It is one of Japan's most famous places for cherry blossoms.

| | |
| --- | --- |
| Beautiful views of the lake can also be had from mountain roads like the Oku Biwako Parkway road up north and the Hiei-san Driveway and Oku Hiei Driveway overlooking the southwestern shore. In the capital city of Otsu, the Otsu Prince Hotel's Top of Otsu restaurant provides a superb high, panoramic view of the lake and city. | |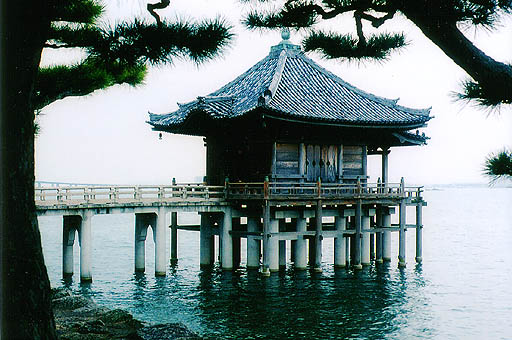 Shiga's most famous building is Hikone Castle, a national treasure. The castle tower is well preserved and it gives you a good glimpse into how a real castle looked like during Japan's feudal period. It also has many cherry trees. The castle is associated with Ii Naosuke who was the Tokugawa shogunate's Great Elder (Tairo). He favored and concluded commercial treaties with the Western powers and thus broke Japan's isolation from the world in the 19th century. Foreigners were then allowed to trade with Japan and take up residence in cities like Yokohama and Hakodate. Unfortunately, Ii was later destroyed in 1860 by people who sought to oust the foreign "barbarians."
| | |
| --- | --- |
| Shiga's second-most famous building is Ishiyama Temple in Otsu. It has a room where one of Japan's most famous novels was written: Genji Monogatari or Tale of Genji written by Murasaki Shikibu. | |
Conference Venue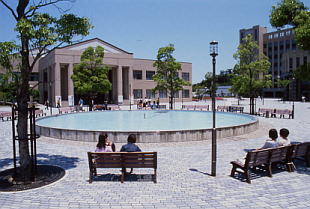 As a new base for Ritsumeikan University instruction and research, Biwako-Kusatsu Campus (BKC) was opened in April, 1994. Located southeast of Lake Biwa, the 61 hectare campus is approximately 30 minutes from Kyoto Station by train and bus. Within a pleasant natural setting, this next Generation Campus·anticipates and prepares for the future needs of our society. In April of 1998, the Colleges of Economics and Business Administration were established. Since then the two Colleges and the highly rated College of Science and Engineering have been surpassing boundaries, working together to form the Integrated Institute for Arts and Science. BKC is Japan's first university campus to merge the studies of high technology and social science.
Campus information can be found on:

http://www.ritsumei.ac.jp/eng/education/bkc_colleges/index.shtml
Getting to Shiga
When arriving from Tokyo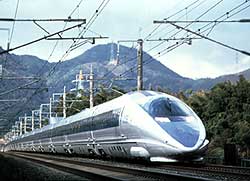 Take JR Tokaido Shinkansen Line for 2 hours and 15 minutes from Tokyo Station or for 15 minutes from Shin-Osaka Station to Kyoto Station. Then, take JR Tokaido Line for 10 minutes from Kyoto Station to Otsu Station.
When arriving from Kyoto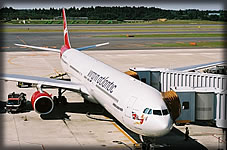 Access information from Kansai International Airport to Kyoto Station:

http://www.kansai-airport.or.jp/english/access/jrwest.htm
Access information from Kyoto Station to the campus:

http://www.ritsumei.ac.jp/eng/profile/visit_rits/bkc.shtml
Kyoto

More Information about Kyoto can be found here:

http://gojapan.about.com/od/kyoto/
Useful Links
More links will be added here
In Cooperation with: